Portfolio Management & Client Reporting

Billing

CRM
Quantum Rebalancer

Document Management

Client Portal & Mobile App

Dashboard & Business Intelligence

Growth Suite
Portfolio
Management & Client Reporting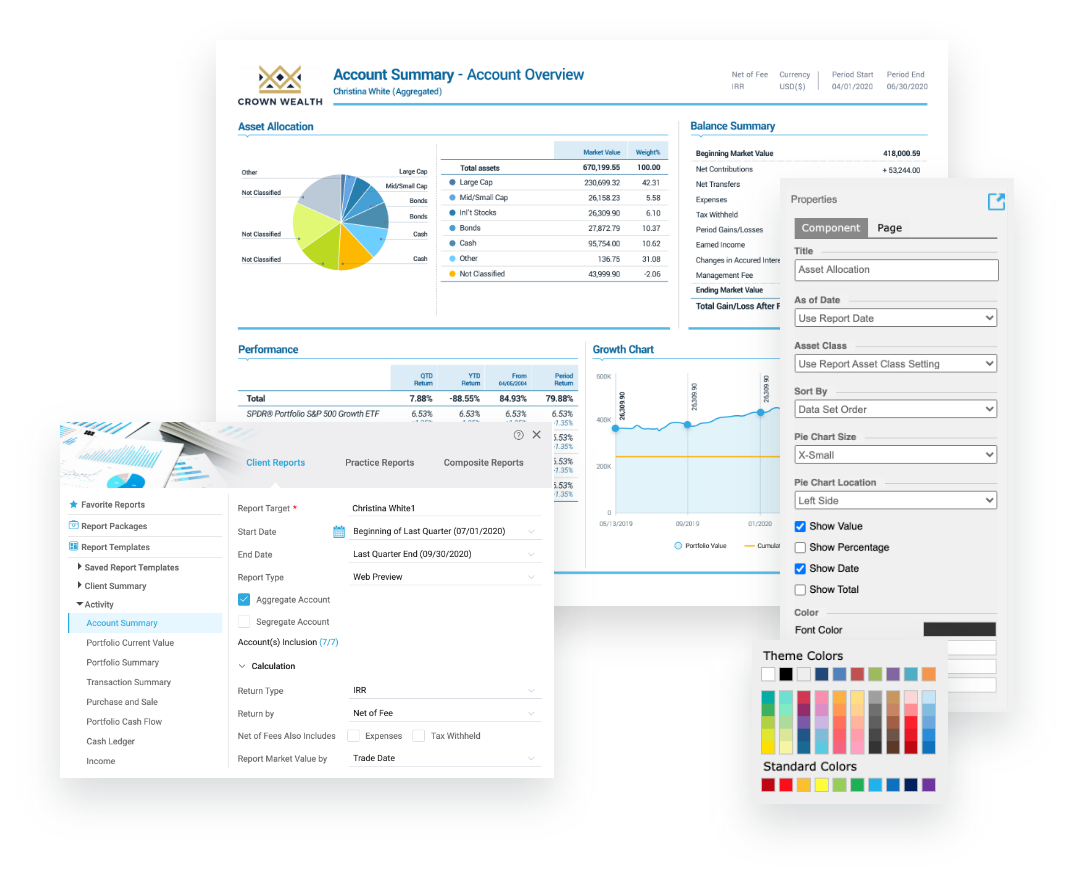 Comprehensive, Flexible Data
We've designed our reporting system to provide you with an experience that is truly second to none. Reporting is at the core of what we do. Our reporting engine is as powerful and robust as any on the market. Our Report Builder allows you to customize report packages exactly how you want them, with countless charts, tables, and data point combinations. Beyond the content controls, we've also allowed for you to visually customize reports by matching the colors, fonts and images of your brand.
Automate Report Generation & Distribution
Easily produce and distribute reports on an ongoing basis with our Reporting Center. Schedule and run recurring report tasks for all clients at the same time, plus distribute to each client through your client portal or print en masse.
Multi-Level Performance Reporting
Beyond dozens of prebuilt reports, our aim is to give users comprehensive and flexible access to their data. Our users can create specific reports for any level of reporting. For strategies that require historical performance reporting, our GIPS compliant Composites tool allows you to track the specific membership history of your managed accounts to produce performance calculations according to industry recommended accounting standards. For firm level insights, take advantage of our Practice Reports menu, or easily construct groups of clients, or accounts to get exactly what you need in just a few short moments.
Fixed Income Reporting
Our fixed income reporting is very comprehensive allowing you to report on all of your bonds, including mortgage backed securities. The heart of the system contains a flexible reporting engine which includes amortization & accretion reports.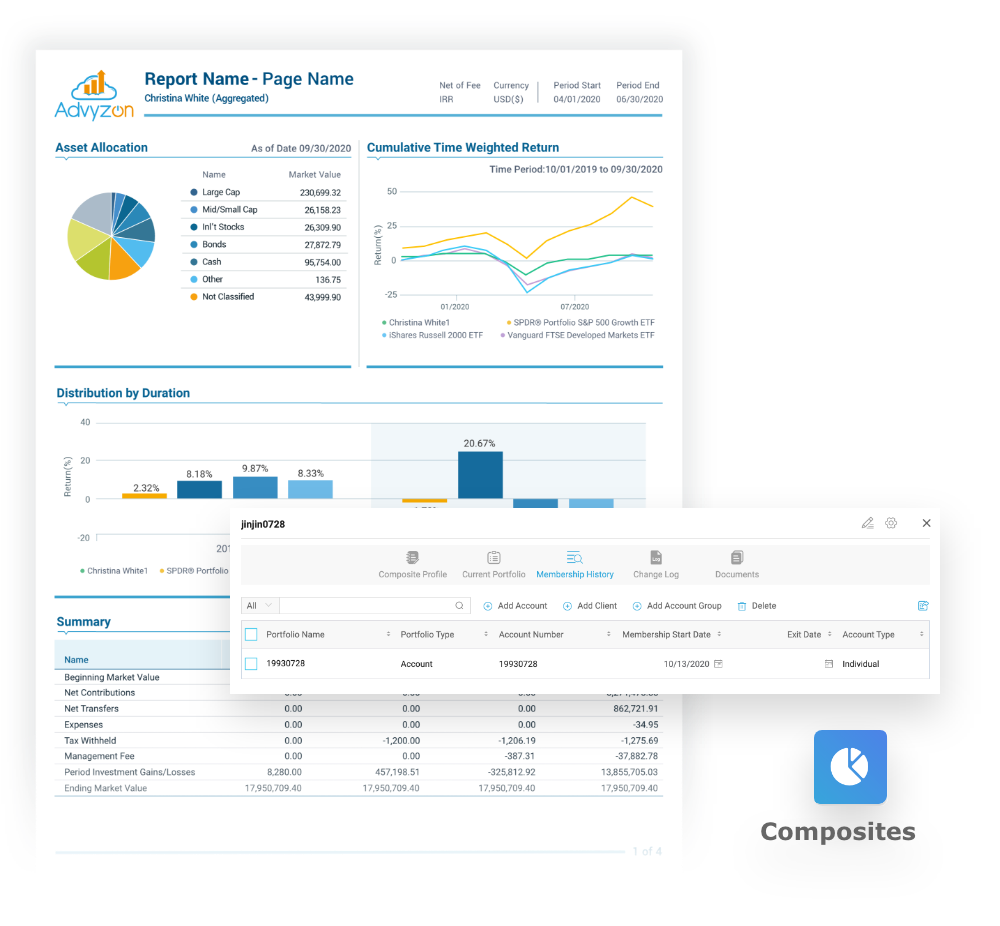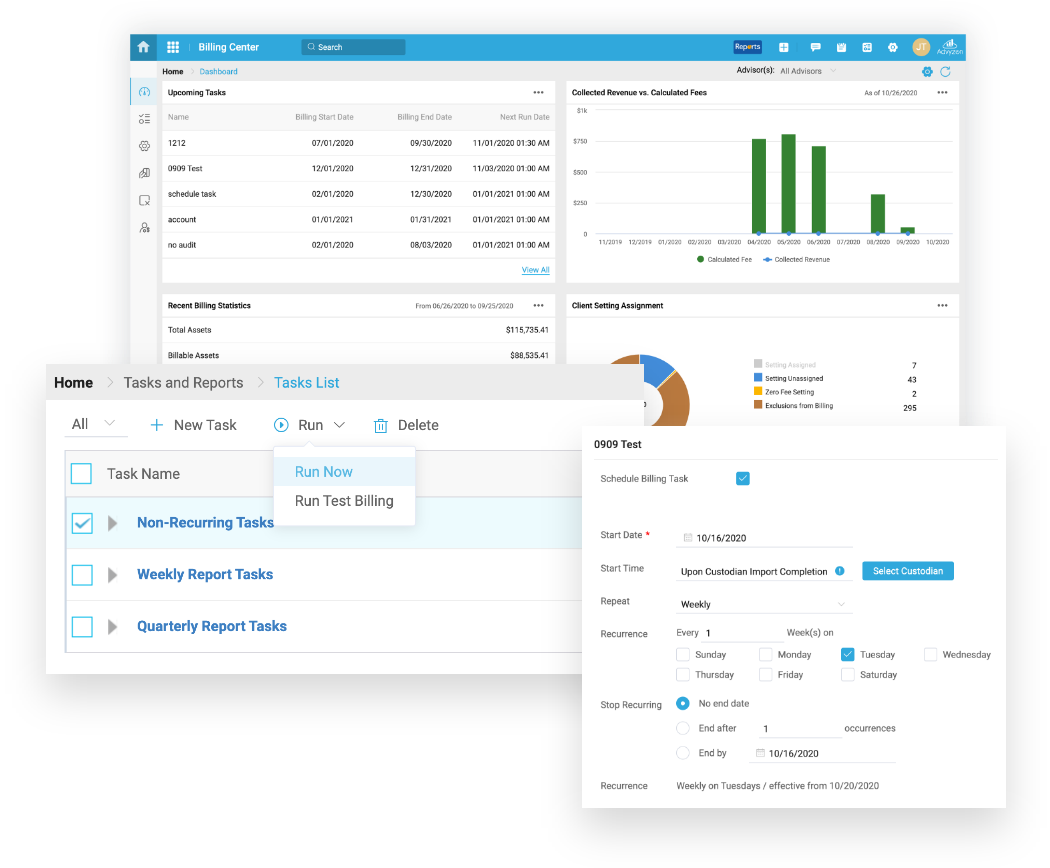 Efficient, Accurate Billing
Given that billing is the lifeline of your business, we recognize that it must get done efficiently, accurately, and without fail. With that in mind, we have designed a billing component that is flexible to set up and turn-key to use. All major methodologies such as flat, tiered, and performance based billing are supported with fee file creation for execution with all major custodians.
Set it and Forget it
Our approach to billing is set it and forget it. Advisors or Admin staff can access the platform and create and assign management fees. Additionally, scheduled statement generation is available, making your invoices accessible whenever you decide. After reviewing your fees through any of our various validation reports you can upload a preformatted fee file to any major custodian. From start to finish you are in control, eliminating any guesswork or errors in the process.
Powerful, Flexible, Intuitive
Our CRM is tightly woven into the fabric of our platform. So tightly, in fact, you won't see any button in the system than says "CRM". Designed to surface important information without all the clicks, our platform allows you to manage all points of contact with your clients and prospects, as well as within your firm. In addition to email, notes, activities, and workflows are all viewable within a single client record, making it simple to get fully up to speed at a glance. All of this, side by side with rich information that traditionally lives within a standalone reporting system.
Seamless Email & Calendar Integration
We provide deep integration with Microsoft Office 365 and Google G Suite, with seamless flow of email and calendar information, calendar sharing, and workflow syncing all the way down to your client record. This approach allows you to continue to use Outlook or the email/calendar tools of your choosing, but have all client communications visible - and archived – within Advyzon. It also archives all of your emails to meet your compliance requirements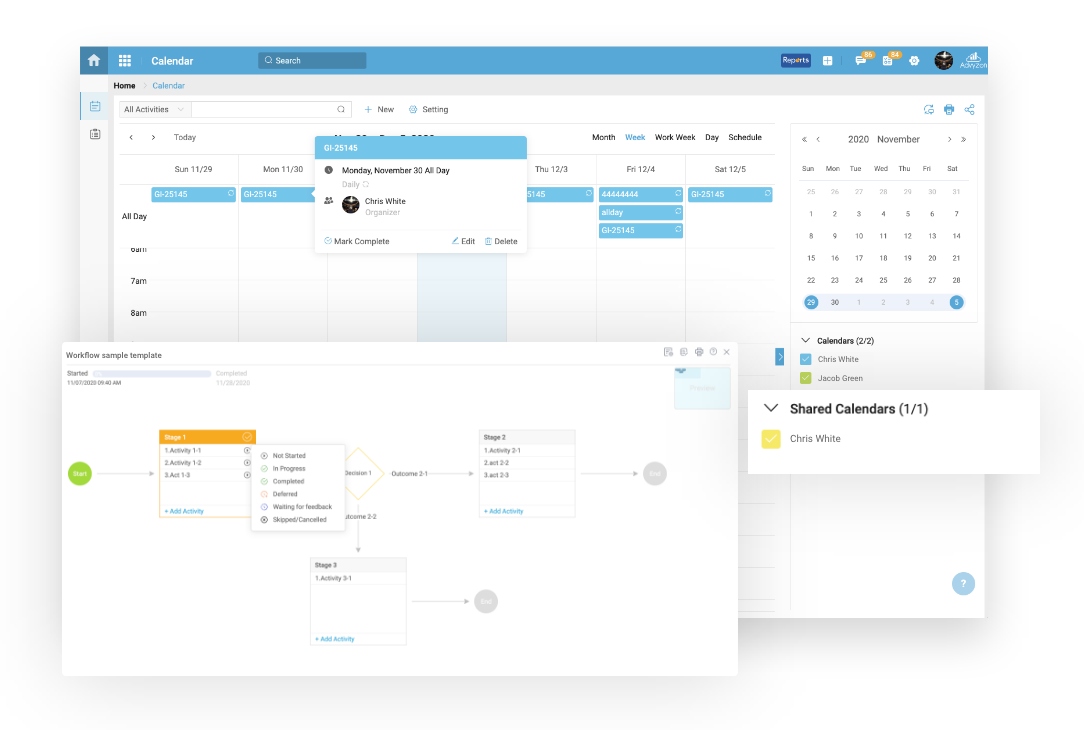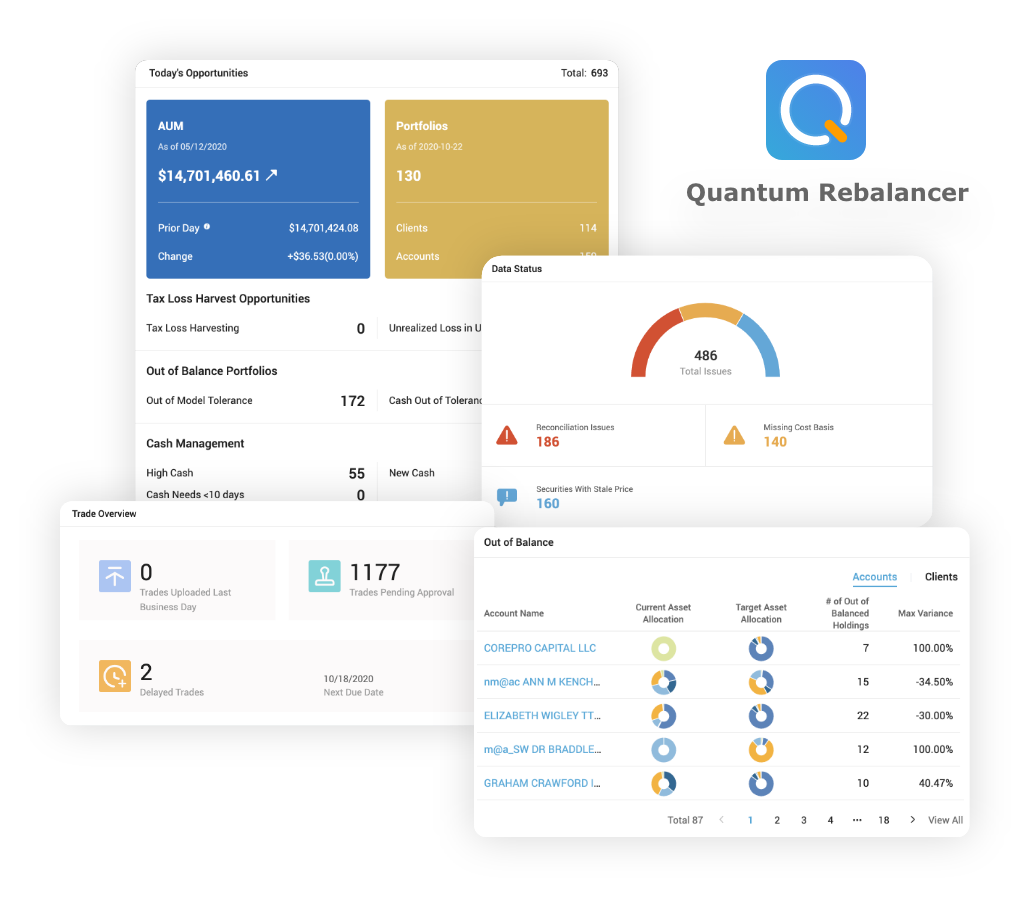 Powerful Rebalancer
Advyzon's Quantum rebalancer provides powerful trading and rebalancing capabilities with multiple rebalance and tactical trade tools supporting a variety of different objectives including location optimization, cash management and tax harvesting. Customizable trade preferences, robust model management capabilities and automated monitoring and processing tools give advisors the power to streamline portfolio management and optimize for client goals at scale.
Trading Simplified
Execute trades for all major custodians from within our platform via FIX or leverage our custodian trade integrations. Seamlessly create block trades and allocations for easier order management. Auto schedule rebalancing tasks and let Quantum do the work for you.
Fully Integrated
Create seamless business processes and avoid errors by leveraging our all-in-one system of household and account records. Built-in dashboards drive efficiency and monitoring capabilities through interactive alerts on new accounts, cash needs activity, portfolio-model variance, tax management opportunities, data quality checks, and more.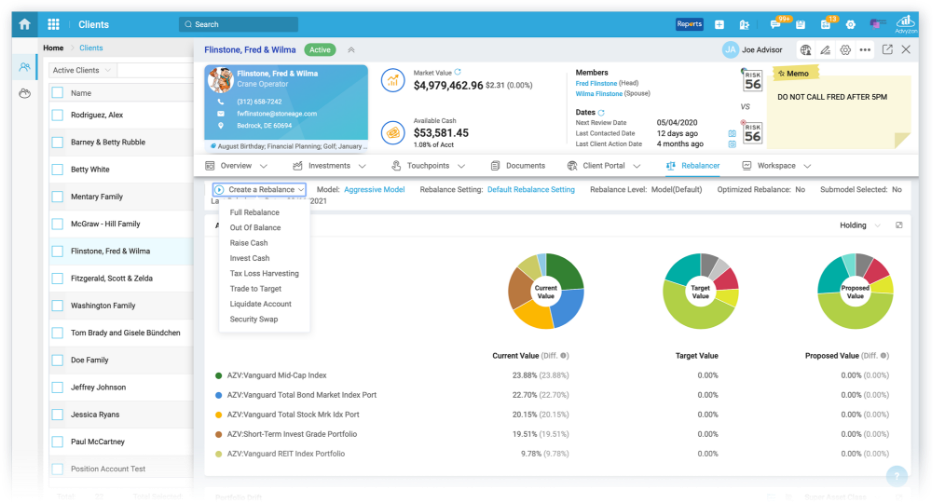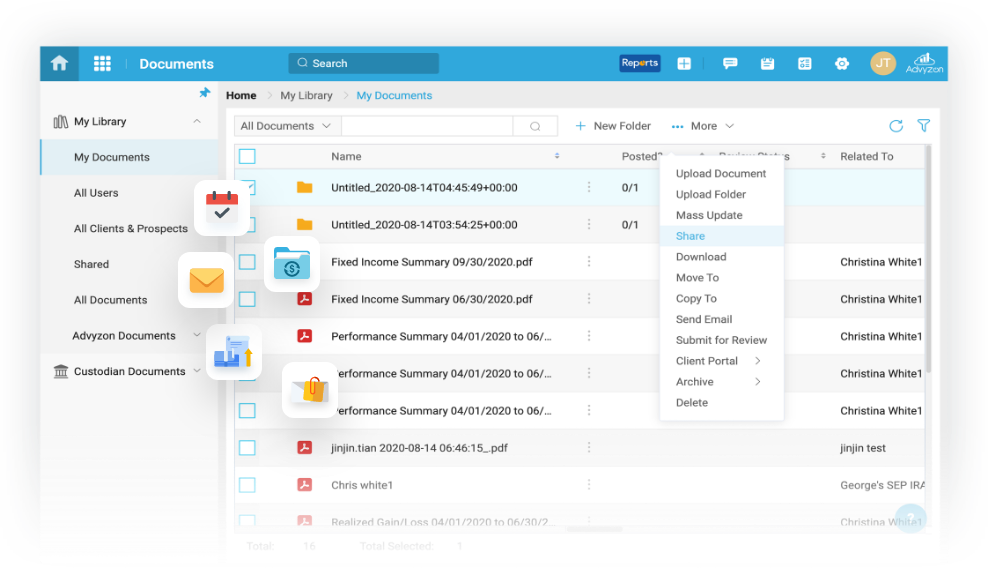 Instant Access
Our document management system gives you the ability to access client documents instantly. Much like email and calendar, everything is quickly available directly within the client record. Posting a document to the client portal on a one-off basis is a matter of two clicks.
Secure Vault
Our document management system gives you the ability to access client documents instantly. Much like email and calendar, everything is quickly available directly within the client record. Client reports are automatically saved to the client record for easy future access and posting a document to the client portal on a one-off basis is a matter of two clicks. At the company level, we provide the ability to store and share documents within your firm.
SEC Compliant Management Tools
Designed to meet requirements for SEC Rule 17a-4(f), our Compliance app allows your compliance team to track, store and organize your firm's critical digital compliance information.  We include WORM support, CCO document retention policies, document review and audit trails.
Client
Portal & Mobile App
Unparalleled Client Collaboration
An incredibly robust and customized client portal ties all of the important information together, giving you unparalleled ability to collaborate with your clients. From secure messaging to reporting and billing posted in our document vault, the client portal and mobile app offer an informative and intuitive experience for investors.  With optional account aggregation tools, the investor can sync held-away accounts and view Net Worth. The portal is also interactive, giving investors the ability to adjust components to change time period or accounts they are viewing.  The document vault allows for two-way secure document sharing between advisor and investor.
Consistent Client Experience
The client portal can be built to mirror existing reports, thus creating a consistent experience for your client, regardless of their touchpoint with their account data. Annual review, quarterly reporting, and client portal can consist of the same data in the same layout, giving your clients confidence that they know what they are looking at when they log in.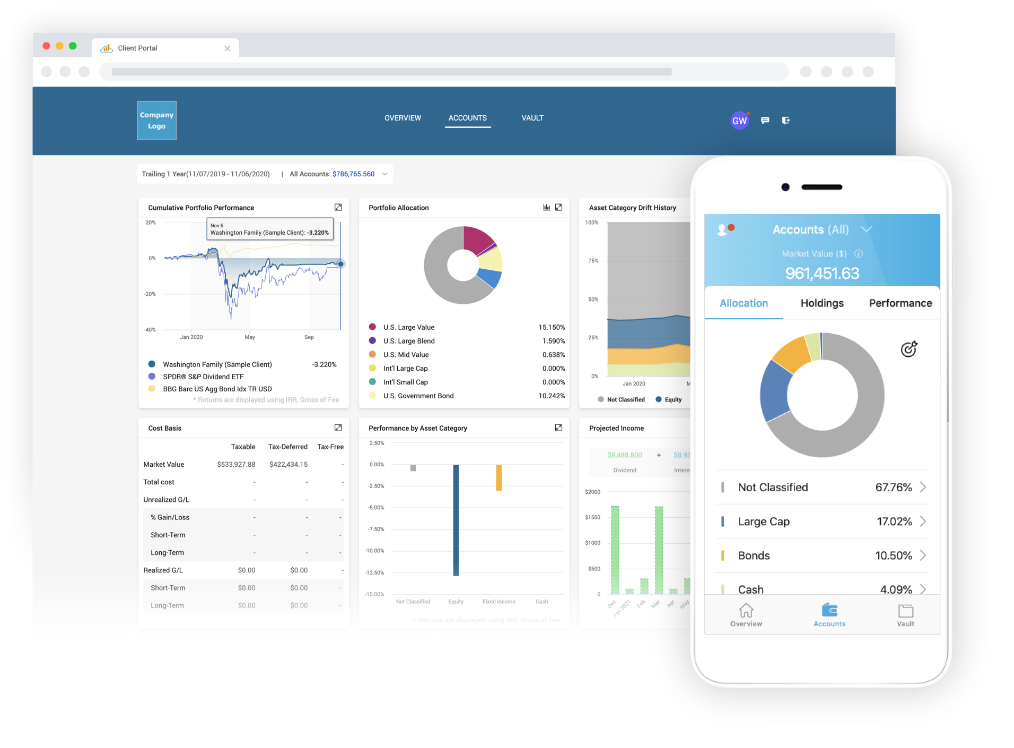 Dashboard
& Business Intelligence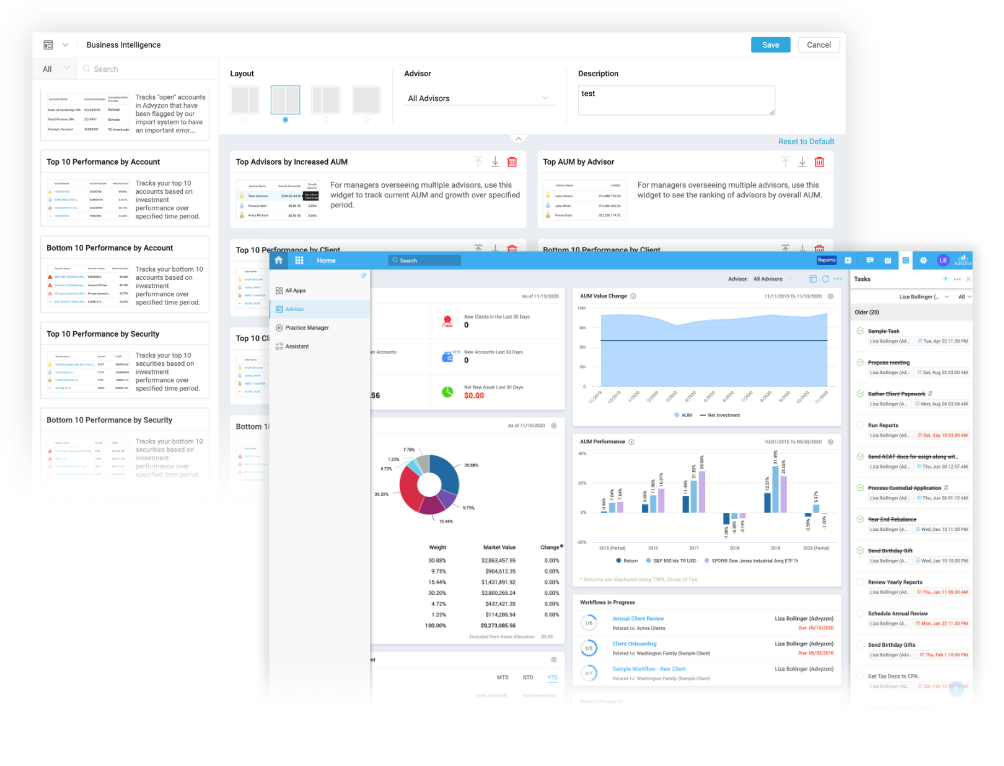 Customizable Dashboards
Everyone works differently.  Every member of your firm can customize their views of client information and performance to focus on what's important to them.  A portfolio manager may be solely focused on asset allocation and performance, whereas staff are focused on client communication and preparing for upcoming meetings.
Powerful Business Intelligence
Through the Dashboard & Business Intelligence views, firms can see key performance indicators like how AUM and Fees have trended as well as the ability to drill down and see top and bottom performing securities, accounts & clients. Over 30 components are at your disposal allowing you more transparency into your practice operations and performance.
Communication
We provide tools aimed at helping advisors grow their business. With several options for client communication, advisors can reach their clients more easily and in more ways. Our client portal and mobile app offer a Twitter integration for advisors to feed information to their clients and build their brand even if the investor isn't active on social media. Our messaging tools offer easy communications to reach clients by email or via the client portal.
Prospect Portal & New Client Onboarding
Onboarding starts with our Prospect Portal and Fact Finder. Let potential clients enter their own information so that you can focus on winning them over. When they sign-on, use the same information to flow into our digital account opening tools helping reduce the time you spend on manual re-entry.